Neuro Ophthalmology
---
Neuro-Ophthalmology is a super specialty that merges the fields of neurology and ophthalmology. Neuro-ophthalmologists are responsible for the diagnosis and management of complex systemic diseases of the nervous system that affect vision, eye movements and alignment, as well as pupillary reflexes.
Get free consultation
---
Book appointment now & get 20% discount
When should you visit your Neuro-Ophthalmologist?
Your eye doctor will usually suggest you visit an expert in Neuro-Ophthalmology after a comprehensive eye examination, in case you need special care. Often, the symptoms that prompt such a referral include those associated with optic nerve disease or diseases of the visual pathway (the nervous system component that connects the eyes to the brain). Other reasons could be the diseases affecting the pupils of the eye, and certain kinds of squint (especially paralytic).
Common Symptoms that Require Attention
The typical symptoms that could signify a neuro-ophthalmological problem include:
Sudden decrease or loss of vision
Sudden transient loss of vision (called transient ischemic attack or eye stroke)
Visual hallucinations
Double vision or diplopia
Intractable headaches
Pupillary abnormalities (sluggish reaction, the difference in size of the pupils)
Sudden onset of difficulties in identifying colors
Inability to tolerate bright light
Visual Field Defects
Squint or strabismus (especially adult onset)
Reconstructive Surgery performed by some of the best eye surgeons
Oculoplastic surgery is one of the principal offerings of Spectra Eye. And this technique is getting very popular without a doubt. It is also known as ophthalmic plastic surgery. It is the procedure of improving the functions and appearance of facial skin, particularly the ones on the eye region. The most common patients of oculoplastic surgery are those who are involved in accidents, those who had developed certain sicknesses and those who have the deficiency since birth. While oculoplastic surgery is frequently used for aesthetic reasons, it actual application is very comprehensive. This process is also referred to as a type of reconstructive surgery. The specialists at Spectra Eye can categorically help many people who wish to opt for Oculoplastic surgery.
Common Tests for Diagnosis and Management of Neuro-Ophthalmology Diseases

A comprehensive eye examination is always the mainstay of the disease diagnosis. In addition to this, your doctor will also advise one or more of these special tests to conclude to plan your treatment. These tests include:
Orthoptic evaluation
Evaluation of ocular movements
Diplopia charting
Neurological visual fields screening
Optical coherence tomography of the optic nerve head
Evaluation of contrast sensitivity and color vision
Types of Eye Diseases treated by a Neuro-Ophthalmologist
The common eye diseases that require attention from a neuro-ophthalmologist include:
Optic Neuritis
It is a condition which presents as a sudden onset loss or decrease in vision due to inflammation of the optic nerve. It can be due to an infection, or an autoimmune response. Optic neuritis is often associated with Multiple Sclerosis(MS).
Papilledema
Papilledema is characterized by the swelling of the optic nerve head (the part of the optic nerve which can directly be seen by your eye doctor during a retinal evaluation) due to increased pressure from inside the brain. It may be due to tumors, infections like meningitis, encephalitis, etc.
Toxic or Nutritional Optic Neuropathy
The optic nerve may be damaged due to toxic substances found in tobacco & alcohol. In fact, the optic nerve damage is often due to lack of nutrients and deficiency of vitamin B-complex and folic acid as well. These diseases also present as decreased vision.
Squint or Strabismus
A misalignment of the eye, especially when sudden in onset, and associated with double vision is often due to paralysis of one or more of the small muscles of the eye, and is called paralytic strabismus. The eye shows limitations of ocular movement as well.
Our Team
Dr. Shweta Jain

"Qualification:MBBS, DNB (Opthal)"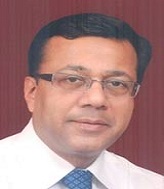 Dr. Rajiv Mohan

"Dr. Rajiv Mohan is a renowned ophthalmologist who has been instrumental in providing quality eye care and education in Northern India, both in private and charitable sectors. He received his medical degree from University College of Medical Sciences, Delhi in 1985 and Masters in Ophthalmology from Karnataka University in 1989. In 1990 he did his advanced medical training in the field of vitreo- retina from England and got his FRCS (Glasgow) in 2002. "

Dr. Sanjiv Mohan

"Qualification: MBBS from SMS medical college Jaipur
MS from Dharwad university, Belgaum.
Trained for higher surgical training in Scotland U.K for 2 years.
FRCS
Experience: Dr. Sanjiv Mohan has an experience of over 18 years as an Ophthalmologist"

Frequently Asked Questions
1. What is oculoplasty?

Oculoplastic surgery is a general term used to represent a variety of procedures that involve the orbit, eyelids, tear ducts, and the face. Ocular reconstructive surgery, aesthetic eyelid surgery, facial plastic surgery, and cosmetic procedures fall into this category.
Some types of oculoplastic surgery are considered both medically necessary and cosmetic. For instance, certain eyelid and periocular issues can affect a person's appearance as well as their vision, eye comfort, and eye health.
2. What is DCR?

A DCR is an operation on the tear ducts to help improve drainage of tears from the eye to the nose. It is usually performed when there is a blockage in the main tear duct between the eye and the nose (the nasolacrimal duct), that has caused the eye to water and sometimes become infected. It is also sometimes performed when there is a partial blockage to improve tear drainage.
3. Why is my doctor recommending surgery for watering of eyes?
When the nasolacrimal duct, the tube which drains tears into the nose, is blocked a surgical procedure is usually required. During this procedure, called as DCR (Dacryocystorhinostomy), a hole is created between the tear sac and the inside of the nose.
Make An Appointment
---
Get in touch by filling the form below