Top 10 LASIK hospitals In India
Lasik surgery is for those people who have refractive errors like nearsightedness, Farsightedness, or astigmatism. The correction method for these errors is usually spectacles. However, when somebody has way too high eye power or wants to get rid of specs they choose LASIK surgery. LASIK surgery has a high success rate but you still need to choose the best hospital for safe and effective surgery. India has the best hospitals for eye care which performs surgeries at an affordable cost. Many foreigners come to India every year for eye surgeries including LASIK surgery in India. The top 10 LASIK hospitals in India are mentioned below. 
What Is LASIK surgery?
Lasik is the abbreviation used for Laser in Situ keratomileusis. This surgery is one of the many ways to fix the vision of people who have Myopia, Hypermetropia, and astigmatism. Refractive errors occur when the light rays do not fall on the retina (inner layer of the eye) resulting in eye conditions like nearsightedness and farsightedness. In LASIK, the cornea that is the outermost part of the eye is reshaped with the help of a laser to let the light rays being focused on the retina. A thin flap is cut in the epithelial layer of the cornea following the reshaping of corneal tissue with the help of a laser. LASIK surgery has a high success rate but you still need to choose the top LASIK hospital in India for safe and effective surgery. 
Sankara Netharalaya- Chennai
Sankara Nethralaya which is a non-profit charitable eye hospital offers LASIK surgery procedures and has been successful in conducting numerous surgeries over the years. They have highly experienced LASIK surgery doctors that use the most advanced technology. Many high-rated newspapers have written about Sankara Netharalaya and honored it as one of the best healthcare institutions. Their hospital has all the machines for LASIK surgery, that is why it is one of the top 10 LASIK hospitals in India.                 
Address- Vasan Healthcare Private Limited, No. 70, Dr. Radhakrishnan Salai, "Lancor Westminster", IV Floor, Mylapore, Chennai – 600 004, Tamil Nadu, India.
Phone: 044 – 43400950, 39890950
EyeMantra Hospital- Delhi
Lasik surgery is the best way to get rid of eyeglasses. Eye Mantra hospitals offer a comprehensive detailed eye check-up to check whether the patient is suitable for LASIK surgery. The check-up ensures that the patient is completely fit to undergo treatment.EyeMantra's doctors have a decade of experience in performing eye surgeries.
Eye Mantra eye center is deemed to be the best hospital for LASIK Laser surgery in Delhi & the NCR region. At Eye Mantra, there is a team of skilled ophthalmologists who're skilled in performing the LASIK, SMILE, Contoura, and ICL surgeries for everyone who uses spectacles or contact lenses. 
If you are not happy with the contact lenses and want to get rid of glasses- Then you can go for LASIK laser surgery at EyeMantra at affordable costs. Eye Mantra offers world-class facilities to the patient and provides a conducive environment for quick recovery. 
Address- A/10, Paschim Vihar west, Delhi, 110063  
Address 2– B-62, Prashant Vihar, Rohini sec-14, Delhi
Phone no.- 9711115191 
Dr. RPC for ophthalmic sciences A.I.I.M.S.-New Delhi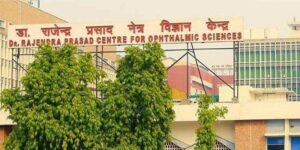 This center for ophthalmic sciences is named after Dr. Rajendra Prasad, the first president of India. Dr.RPC center was established in 1967 to provide better healthcare and education in the field of ophthalmic science. AIIMS is one of the best government LASIK hospitals in India.
This hospital provides different kinds of services like clinical laboratories, In-patient services, Emergency services, Investigative Laboratories, National eye bank, etc.       
AIIMS has now made it easier for patients to book their appointment. They have started online booking very easily using AIIMS patient portal.  The aim of this hospital is to expand human resources for medical education, provide patient care and undertake complete research to find solutions to eye-related difficulties in the nation. 
Address– Rajendra Prasad Centre, AIIMS- Ansari Nagar, New Delhi
Mobile– 011-658995
Eye-Q Hospital- Gurgaon
The Eye-Q is a registered eye organization that provides eye care for its patients. They correct visions and even tiny aberrations in the eye. Earlier they used old laser corrections for spherical and cylindrical. But now they have updated to Zyoptix procedure which provides better vision even at night, reduced glare with great safety and efficacy rate.               
Address–  4306, Near Galleria Market, DLF Phase IV, Gurgaon, Haryana.
Ph. No: +91 124 4272225/26/27
Shroff eye Hospital & LASIK center- Mumbai
The shroff eye hospital & LASIK center was established in 1919 and has been accredited to the Joint Commission International, USA. It is also the first eye hospital in Mumbai to use advanced technologies and methods to treat eye diseases like keratoconus. The hospital has the fastest and most advanced technology in the world and the only one in India, which is the Wavelight 500 Hz Concerto.  
Shroff hospital is one of the top LASIK hospitals in India, which has the best LASIK doctors. They customize their treatment as per the requirements of the patient and are the best in the country.
Address– 222, S V Road, Near Suburbia Movie Theatre, Bandra West, Mumbai- 400050.
Phone: 022 – 6692 1000         
Apollo Hospitals- Chennai
Apollo hospital was established in 1983 at Greams road in Chennai. This hospital is a Multispeciality hospital which has major specialties like Ophthalmology, Heart, Cancer, Bones, etc. It has the award of the " Best Private Sector Hospital in India" by the Week Magazine. Apollo hospital in Chennai has the best facilities and equipment for patients who need eye care. Their experienced doctors treat LASIK carefully and effectively. 
Address-21, Greams Lane, Greams Road, Chennai Tamil Nadu India.
Phone:  44-2829 7840   
Asian Eye Institute & Laser Centre- Mumbai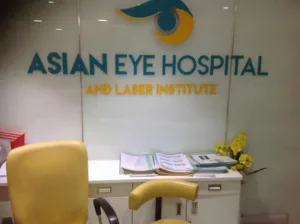 Asian eye institute & laser center is an ISO 9001-2008 certified laser eye hospital. This hospital provides eye care services to a wide spectrum of eye diseases. AEILIC provides the best eye care for cataract surgery and other subcategories of surgeries like phaco cataract surgery, LASIK surgery, corneal transplant, laser eye treatment, etc. 
The aim of the Asian eye institute & laser center is to give independence from glasses with Lasik in a younger age group and it uses the progressive lens in cataract surgery for the elder age group. It is one of the top 10 LASIK hospitals in India.    
Phone: 022 2418 0124
Address- 1st Floor, Satyanarayan Apartment, Borivali East, Mumbai, Maharashtra 400066
Fortis Memorial Research Institute- Gurugram
The location of Fortis memorial research institute is in the prime city of Gurugram, Delhi-NCR. The establishment year of this hospital is 1996. FMRI- Gurugram is one of the top 10 LASIK hospitals in India.
This eye hospital has the most qualified and best eye surgeons. The doctors of this hospital ensure treatment with utmost accuracy. The hospital provides many facilities to the patients such as a blood bank, 24×7 pharmacies, ambulances, emergency treatments, and so on. Fortis memorial research institute is famous for providing the best healthcare services in an ethical and compassionate manner. 
Address– Sector 44, Gurugram, Opposite HUDA City Center, Haryana
Dr. Agarwal's eye Hospital- Chennai
Agarwal's eye hospital is one of the premier institutions for LASIK in Chennai. This hospital treats patients from around the country and from abroad as well. Agarwal's eye hospital was founded by Late Dr. J. Agarwal who was a recipient of the Padma Bhushan award and his wife Dr. T. Agarwal in Chennai, India. This hospital is famous for its special LASIK treatment. It also has the best LASIK eye surgeons in India. A patient can book an appointment at Agarwal's eye hospital online easily. 
Address: 19, Cathedral Road, Chennai – 600 086.
Phone no:  044 2811 2811, 44 2811 2525
JJ Hospital- Mumbai
JJ hospital was established by philanthropist Sir Jmsetjee Jejeebhoy in Mumbai. It is a famous hospital for providing LASIK treatment at an affordable cost. This hospital also helps the underprivileged and people below the poverty line by providing LASIK surgery free of cost. JJ hospital offers LASIK surgery at a price as low as 7000. They are one of the best charitable LASIK hospitals in India.   
Address- Jijibhoy Road, J J Marg, Nagpada-Mumbai Central, Mumbai – 400008
Phone: +(91)-22-23735555, 23754995
A Word From Eye Mantra
These are the top 10 LASIK hospitals in India where one can get treatment or surgery for refractive errors. Your eyes are one of the most important senses that you need to lead a quality life. Therefore, you should be careful about which hospital or doctor you choose for your treatment. At Eye Mantra, we provide the best team of surgeons and doctors who have vast experience in successful surgeries.
We are the best eye hospital in Delhi and provide services like LASIK Surgery, SMILE Surgery, and Specs Removal surgeries. Consult our ophthalmologist now!
Book an appointment with us immediately by calling at  +91-9711115191  and you can even mail us at eyemantra1@gmail.com or visit our site- EyeMantra