Eyeglasses for Round Faces
Choosing a pair of eyeglasses that suit you can be difficult and it is a subjective choice as your face shape has a lot to do with finding the right fit. There are 5 types of face shapes-round, triangular, heart, square, and oval. In a round face, the width of the jaw and the bow are almost equal. The best type of glasses suited to this face type is those shapes that contrast with your facial features.
Choosing a new pair of eyeglasses is a big decision. To pick the most flattering, comfortable, and practical pair, you need to consider several different factors: your lifestyle–i.e., whether you lead an active life with involvement in sports or other outdoor activities–your fashion sense and personality, your facial structure and your skin tone and hair color.
Eyeglass Frames
Of course, you also need to take into account your visual health and the reason you need eyeglasses. Are the glasses correcting a refractive error? Do you need them for reading or driving at night? Are you looking to invest in a special coating to protect your eyes from blue light?
Keep in mind that the glasses you choose should also suit your personality. That's why finding the perfect pair of glasses — especially if it's the first time you've needed eyeglasses — should be fun. Many factors will need to be considered to ensure you're making the right decision, but searching for the right pair should ultimately be fun, not frustrating.
Many people change their eyeglasses so seldom because of the expected cost in many retail locations. And lens manufacturers' feature products that can sometimes break the thousand-dollar barrier- no wonder most people try to get the most wear out of each pair of glasses they purchase! 
For many people, glasses are also a fashion statement. Do you want to put off a sophisticated vibe, a no-nonsense, business vibe, a fun, quirky vibe, or something in between? Are you style-conscious? Shy? Studious? Do you want to change your vibe and the way people perceive you? The right eyeglasses can help you present yourself exactly the way you want.
Things to keep in mind while buying frames for round faces
Angular Shape Frame: This shape balances the features and brings some structure to your face. They also make the face appear longer and thinner. Angular or geometric patterns and shapes add definition to the face.
Glasses with Nose Pads: Nose pads compliment big cheeks or flat noses.
Right Color: Pick bold patterns and colors to complement your skin color.
No Small or Round Frames: Round frames make the face seem rounder with no structure.  Find the correct frame to add some definition and angle to your face.
Frame for Round Faces
Square frame
These eyeglasses are the best suited to a round face. It's better to choose a frame that is wider than your face so that the face appears longer and thinner and the features get balanced out well. The contours make your face more defined and thus these frames are the safest bet. They give even the roundest of faces structure and are fashionable and quirky.
Brown Line or Semi-rimless Glasses
Semi-rimless eyeglasses provide a slightly different silhouette than square glasses and suit the round face of both men and women. It doesn't add a lot of angles or balance to the face but the silhouette creates the illusion of length, effectively slimming the face. These are the most popular angular glasses and the frame is available as bowline or semi-rimless with both square and rectangle glasses.
Hipster Glasses
Hipster eyeglasses do not pertain to a particular shape. It is available in different shapes. Hipster glasses in square frames look quirky on a round face. The best bet is to find a pair that adds structure as well as a silhouette to your face, making it seem more balanced and elongated.
Cat Eyeglasses
Cat-eye eyeglasses are a style popular amongst women. It is fashionable and unique. Cat eye glasses should be chosen with angular instead of a round frame if you have a round face. The best part is that you get the benefit of cat eyeglasses along with those of square frames. The face seems thinner, angular, and well-balanced. Cat-eye glasses keep the attention on the upper part of the face and add balance.
These are masculine designs that add definition to the face. They are popular and fashionable. They add silhouette to the face and are perfect for the round face type. They are also considered to be a good pair of eyeglasses.
Colorful Eyeglasses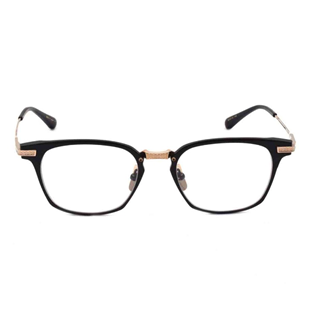 The best part of having a round face is that bold frames will not get lost in your face. Strong or deep colors are better. The best thing to do is to buy darker shades, as lighter colors do not frame the face or add structure. To get a positive impact, the color is necessary along with the shape. Lack of contrast will make the optical illusion that makes your eye seem bigger less noticeable.
Lighter colors suit darker skin tones as they provide a stark contrast.  For example, if you have a lighter skin tone and a round face, rectangular eyeglasses with a purple frame will suit you well. They add color, create length, and make the face seem thinner.
Oversized Frames
These frames are the ultimate style statement. They bring structure to soft features. Bigger frames stand out and add structure as well as make a fashion statement. Thick-rimmed eyeglasses are the way to go if you want to make a bold choice.
Classic Rectangular Frames
These classic frames are the safest bet available. They suit the round face and will flatter your profile. The structure is added to your soft features. They have a more serious look and look good on both men and women. Best suited for professionals.
Choosing Best Frame for Round Faces
The material of the frame can do wonders for your face shape. There is no particular material that suits a face shape best and thus, this is a completely subjective choice.
Still, some materials add contrast and structure to your face. Here is a list of those materials which suit the round face structure best.
1. Transparent frames
These frames were very popular in 2017. They look almost invisible at a distance and add structure to soft features while still emphasizing the beauty of those features. They are available in both clear options as well as with a very faint tint.
2. Full rim glasses
The best frame suited to round faces is that which has angular and sharp lines that add structure to the face. Thicker frames fully enclose the glasses and balance the features.  They come in multiple styles like rectangular, cat-eye, and wayfarer.
3. Wooden frames
These are very popular as well as elegant. They provide a defined silhouette and make the face seem thinner. This natural material pairs particularly well with round faces.
4. Wayfarer frames    
These eyeglasses are an old-time classic for people with round faces. They have distinctive angles and add contrast to your features.  They also add a vintage look and remind one of the old Hollywood actors.  Stylish glasses are available in multiple colors and if you have a round face, it's best to go with frames slightly bigger than your face so that it appears thinner and longer.
Overview
Choosing eyeglasses appears to be simple but it is a complete science and getting the best fit is an art. Round faces are best suited to thick-rimmed, angular glasses that provide contrast, structure, contour, and silhouette. Choosing both the correct style and material of the frame is very important. The correct pair of eyeglasses can become a huge fashion statement.  Choosing frames that are slightly bigger than your face is also a good idea as they make the face appear longer and thinner. Small glasses are not recommended as they do not provide a contrast to your features and may also be uncomfortable. The best way to find a perfect fit is to measure temple width and pupillary distance and choosing what feels right to you.
You can either go classic with rectangular, square, or wayfarer frames that provide an elegant and serious look. On the other hand, fashionable and popular frames like cat eyeglasses and aviator glasses are also available. Thus, assess your face type and try out different styles. The best fit can do wonders to bring out your style and personality.
If you are having any kind of vision problems make sure you visit our hospital in Delhi. You may also check our website www.eyemantra.in for more details. Call +91-9711115191 or mail us at eyemantra1@gmail.com to book an appointment with us.