The scleral lens, is a large contact lens that resides in the scleral and forms a tear-filled chamber over the cornea. Scleral lenses are designed to treat a wide range of eye conditions, many of which do not respond to other treatments..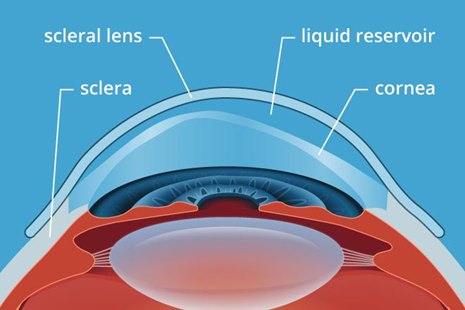 Uses Of Scleral Lens
Medical use
Scleral lenses can be used to improve vision and reduce pain and light sensitivity in people suffering from a growing number of eye disorders or eye injuries, such as dry eye, microphthalmia, keratoconus, corneal ectasia, Stevens-Johnson syndrome, Sjögren's syndrome, aniridia, neurotrophic keratitis (anesthetic corneas), post-LASIK problems, high eye height, corneal implant problems, and pellucid degeneration.
Eye injuries such as surgical complications distorted corneal tumors, and chemical and burn damage can also be treated with scleral lenses. Scleral lenses can also be used in people with very sensitive eyes in some of the smaller corneal lenses, but they require a stronger lens for vision-correcting conditions such as astigmatism.
Special Effects
"Scleral" contacts are used, in movies. These lenses are often uncomfortable and sometimes distort the view of the characters, but the visual effects produced can be striking. These lenses can be customized, although many companies only sell lenses with a pre-made look.
Eye Movement Rate
In ophthalmology or cognitive science, scleral lenses with mirrors or fitted magnetic fields such as wire cords (called scleral coils) are commonly used to measure eye movements.
Types Of Scleral Contact Lens
The most commonly used lens is determined by the severity of the condition. Severe forms of keratoconus and abnormal astigmatism arising from corneal surgery and targeted surgery are often easily treated with scleral lenses at the lower end of the spectrum.
Small scleral and mini-scleral contacts can be easy to use, can be very expensive, and require a few care products.
In more complex cases, including advanced keratoconus, overly dry eyes, or ocular facial disease that may require a large area of ​​tears, they are usually fitted with large scleral lenses, because they have greater fluid retention or a bridge for major changes in corneal curvature. During the examination of your contact lenses and proportions, your eye care professional will determine the best type of metal and size for your specific needs.
Scleral Contact Lens For Keratoconus
Many ophthalmologists recommend contact lenses for a wide range of eye ailments, including keratoconus.
In the early stages of keratoconus, a standard GP lens should be used. However, if the lens is not properly aligned with the eye or is excessively blinking and causes discomfort, switching to a wide-angle contact lens can solve the problem.
Because scleral lenses are designed to cover the surface of the corneal and remain in the least sensitive area of ​​the sclera, these lenses are generally comfortable for a person with keratoconus. Also, scleral lenses are designed to balance the slightest movement or absence of the lens during blinking, making them more stable in the eye, compared to traditional gas-powered lenses.
Scleral Contact Lenses For Other Eye Problems
In addition to keratoconus, scleral contact lenses can also be used by people suffering from dry eyes, which is caused by conditions such as Sjogren's syndrome, graft-versus-host disease (GVHD), and Stevens-Johnson syndrome. Advances in lens design technology allow manufacturers to design scleral lenses that can handle more complicated situations than ever before, including bifocal scleral lenses for presbyopia correction.
Specialized Contact Lenses
Sometimes the term "scleral lenses" (or "scleral lenses") is also used to describe special touch lenses that dramatically change the look of the wearer's eyes. However, these clothing contact lenses (also called theatrical contact lenses) are soft lenses that are not exactly the same as gas-free contacts – except for their large diameter which completely covers the cornea. Also, soft theatre contacts are usually designed for cosmetic purposes only and not for vision correction.
Unknown Facts About Scleral Lenses
The contact lenses on the scale put their weight on the sclera and the upper chamber of the cornea. These lenses are effective in resolving incomplete vision-related problems in unfamiliar parts, retrieval errors, and many other conditions.
However, while scleral lenses tend to be a common occurrence in high-performance contact lens practices, they tend to be an uncommon area for primary care physicians.
To help you understand these lenses, why they work, and how they are commonly used, we have compiled a list of five real-life scleral lenses.
Scleral lenses precede other contact lenses. Although soft contact lenses are generally considered normal, scleral lenses have a long history.
Scleral lenses are specially designed according to the shape of each eye. They are designed to sit gently on the sclera, without causing pressure on the lower extremities.
Scleral lenses are useful when the patient does not seem to be getting a good contact lens that solves his or her vision problem.
Each contact lens is designed for the patient. Lenses need to be installed in the upper chamber of the cornea to maintain a consistent fluid reservoir between the lens and the cornea. This design ensures that the eye stays hydrated each time the lens is inserted. In addition, the water layer helps to compensate for any abnormalities in the shape of the cornea, which improves vision.
Scleral lenses are relatively inexpensive. One of the most widely read myths about scleral lenses is that they are more expensive than conventional soft lenses. Because lenses have to be fitted and tailored to fit each eye, there is a lot of work involved in providing scleral lenses, which many patients think will lead to higher costs. Patients are often surprised to find that scleral lenses are less expensive.
These lenses are usually covered by insurance and offer enough improvement over conventional lenses – in all comfort and perspective. In addition, if the lenses are thoroughly cleaned and maintained, their lifespan may exceed that of any other type of lens.
Scleral lenses can promote facial healing. Correction of vision is only part of what scleral lenses do. They protect the eye by exposing it to a liquid-filled chamber. This setting provides the eye with the moisture and oxygen it needs to stay healthy but also protects it from external or irritating threats. As a result, scleral lenses are wonderfully promoting healing of the ocular surface, either after corneal implants or during recovery from chemotherapy or burn injuries.
Overview
Scleral lenses are large contact lenses used to cover the sclera of the eye. There are several uses of these lenses like medical use and they are also used to stabilize the movement of the eyes. There are different kinds of sclera lenses depending on their functions and required use. These lenses are inexpensive and are often suggested by ophthalmologists.
To know more about it, you can easily visit our website Eyemantra. If you are looking for other services like cataract surgery, Retina surgery or Ocuploplasty you can simply ring at +91-9711115191. Even you can simply mail us on  [email protected].
Related Links

Night blindness: Causes, Symptoms, Diagnosis & Treatment