Since 1995, these lenses have been in the market but still, they are treated as the latest product and they are gaining popularity all over the world. Daily disposable contact lenses are meant for one-time use only. They are removed and disposed of at the end of each day. A fresh pair of contact lenses can be used every morning. Daily disposable contact lenses have become increasingly popular among practitioners and consumers.
Things To Know About Daily Disposable Contact Lenses
● 'Daily wear' should not be confused with 'daily disposable'. 'Daily wear' lenses are not meant for extended (overnight) use, therefore, they should be removed before going to bed. Depending on their brand, such lenses should be replaced daily, weekly, monthly, or even quarterly. Therefore, the 'wearing schedule' and 'replacement schedule' must differ.
● 'Disposable does not always mean for 'single-use lenses. Sometimes it is referred to those kinds of lenses that are replaced after a week or two.
Why Replace Contact Lenses?
The more frequently you replace your pair of lenses, the more comfortable and healthier your eyes will be. Substances like protein, calcium, and lipids can build up on your lenses. These deposits will make your contact lenses uncomfortable than when they are new. It also increases the risk of eyes getting infected. Lenses can be cleaned with lens solutions but they will not be 100% clean. A new pair of lenses will always be cleaner and hygienic.
Daily Contact Lenses: Convenient And Healthy
Wearing contact lenses while sleeping is not a good idea as it increases the risk of eye infection. 'Daily disposable lenses' are considered more convenient in this regard. They are not required to be cleaned. 'Single-use lenses reduce the risk of eye infection. 'Daily disposables' do not have any day-to-day depository accumulation. And they are also not to be worn overnight.
Regular Contact Lenses v/s Disposable Contact Lenses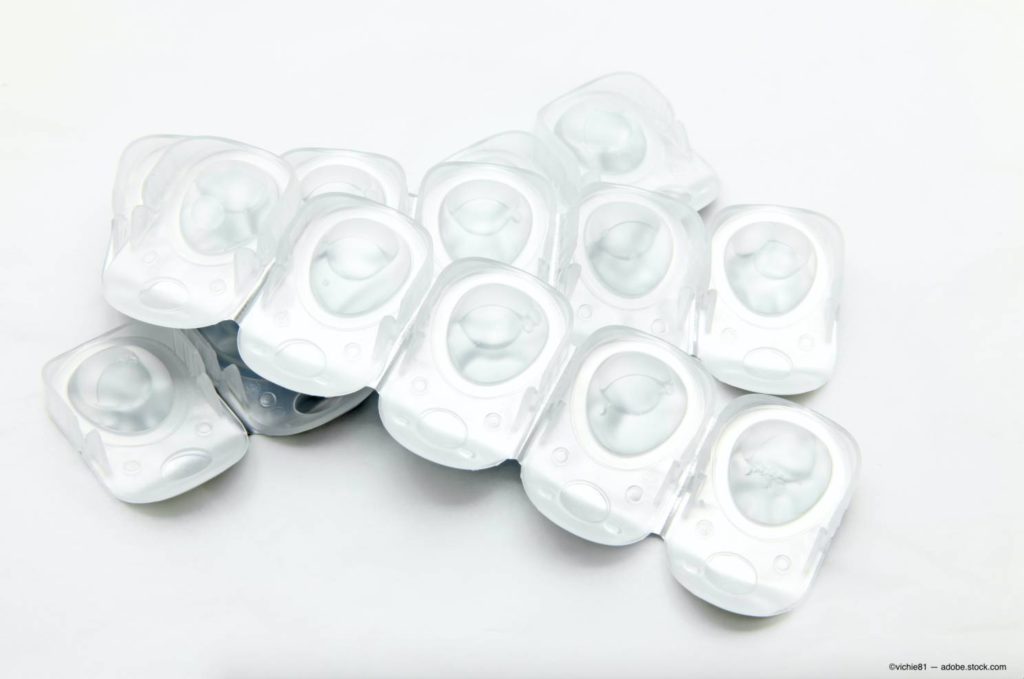 Replacing lenses has always been a healthy thing to do. The problem with replacing the 'regular lens' was that they were very expensive to be replaced. So people started using solutions and devices to prolong the life of their lenses. New manufacturing methods were used by the contact lens manufacturers to produce high-quality lenses in great volume and at lower costs. These advances made lenses affordable and consequently easy to replace. Regular contact lenses are still made from the same material as traditional lenses. On the other hand, disposable lenses are made of new materials and are designed in a manner that supports their intrinsic structure.
Pros of Daily Disposable Contact Lenses
1. Comfort: Monthly contacts are relatively more robust than dailies. Dailies seem to be more flimsy but they have their own set of benefits. Daily disposables are a lot thinner so they provide a higher level of comfort to the wearer. This 'thin' characteristic of the daily disposables allows the lenses to maintain a higher level of water content. Therefore, they remain moist all day long. You can test both dailies and monthlies and feel the difference in your eyes. Quality may vary with brand and cost.
2. Hassle-free: Daily disposable lenses are hassle-free and that's why people are more inclined towards these lenses. You just have to open a new pair of lenses every morning, apply them on and you are good to go. They are also low maintenance and sterile.
3. No need for a reminder: There is no need for a reminder with the daily disposables. You just simply have to remove them at night. Moreover, it is practically impossible to wear them past their due date. So you can simply wave goodbye to your monthly lenses and all the extra costs related to them like cleaning solutions, new contact lenses, etc.
4. Travel-friendly- While traveling, daily disposable lenses are so much convenient. In the long run, you'll be saving on cleaning and maintenance.
5. Healthier eyes: Daily disposable lenses are healthier for your eyes. Every morning, you get to put on a sterile pair of lenses. You will not have to worry about cleaning them. Since daily disposables are sterile, there is no question of eye infection. Due to their thin construction, daily disposables allow more airflow to the eye. So the eyes receive adequate oxygen. They have proven to be less dry and less irritating. People with allergies and sensitivity issues must opt for daily disposable lenses. Around 30% of contact lens users opt for daily disposable lenses.
Cons of Daily Disposable Lenses
1. Cost: Depending on the brand and quality, daily disposable lenses can prove to be more expensive than extended wear lenses (regular lenses). But companies are using new technologies to develop daily disposable lenses at a cheap cost, without compromising on quality. The cost will be balanced as with daily disposable lenses you would not be spending money on lens cleaning and maintenance.
2. The temptation to reuse: After you realize how comfortable they are you would be tempted to use them for another day. Research proves that it's not worth the risk. Contamination could occur this day as a study shows. Wearing the daily disposable lenses past their expiration date is never a good idea.
3. Dry eyes: Latest daily disposable lenses have a high water content that allows your eyes to breathe. But still, people often complain about dryness due to these lenses.
4. Comparatively fewer options: Monthly lenses prove compatible with all eye conditions. Contact lens users who do not have a standard prescription may find it hard to get matching dailies.
5. Less environment friendly: Daily disposables are not the best friends of the environment.
6. Delicate: Daily disposables are typically made of thinner materials, so they are way more delicate. They are very thin so are more likely to get torn apart. But if you have already decided to get these lenses then make sure you take good care of them.
7. More supplies: If you are choosing to opt for disposable lenses then you have to maintain a good supply.
Choosing Daily Disposable Lenses
It is a matter of preference for choosing between daily disposable and regular lenses. With an increasing demand for contact lenses among the public, daily disposable lenses have become more preferable. While buying daily disposable lenses you should be careful about what brand are you choosing, the quality of the lenses, the price range, etc. Look for a pair that has, "UVB/UVA protection, moisture balance, moisture balance, and competitive rate". Search for the most compatible daily disposable lenses. Daily disposable lenses are available for every prescription. Ultimately your ophthalmologist or optometrist can only recommend you for the better choice. Optometrists have the best knowledge when it comes to contact lenses.
To know more about it, you can easily visit our website Eyemantra. If you are looking for other services like cataract surgery, Retina surgery or Ocuploplasty you can simply ring at +91-9711115191. Even you can simply mail us on  

[email protected]

.